All That Jazz
Posted June 11, 2014 by KRISTIAN LIN in
Calendar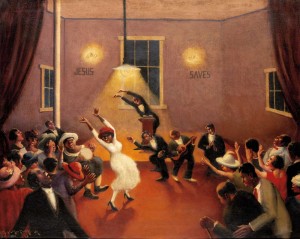 Archibald Motley's "Tongues (Holy Rollers)" at the Amon Carter.
A New Orleans native who adopted Chicago as his hometown, Archibald Motley Jr. (1891-1981) never lived in Harlem, and yet he became one of the leading artists of the Harlem Renaissance, the great African-American cultural flowering that took place in the 1920s. While Motley's fellow students at the Art Institute of Chicago reacted to the famous Armory Show of 1913 by retreating into a more conservative, academic style of art, Motley himself embraced the modernist movements that were sweeping Europe at the time, using their techniques to paint riotous, exuberant pictures of life in the African-American community during the Jazz Age. His vibrant street scenes are balanced by calmer, more intimate portraits of individuals, which Motley used to further the cause of depicting African-Americans with dignity and without caricature.
A major retrospective of Motley's work, Archibald Motley: Jazz Age Modernist opens this week at the Amon Carter Museum, showcasing not only the artist's Chicago paintings but also his works inspired by his travels to Paris in the 1920s and to Mexico in the 1950s. The show, organized by Duke University's Nasher Museum of Art (not to be confused with Dallas' Nasher Sculpture Center) will travel only to L.A., Chicago, and New York after it closes here, so we should feel fortunate to have it.
Archibald Motley: Jazz Age Modernist runs Jun 14-Sep 7 at Amon Carter Museum, 3501 Camp Bowie Blvd, FW. Admission is free. Call 817-738-1933.