Samurai: Killer Style
Armor, helmets, masks, and serious scholarship make this Kimbell exhibit a winner.
Posted June 25, 2014 by NICOLE CRITES in
Arts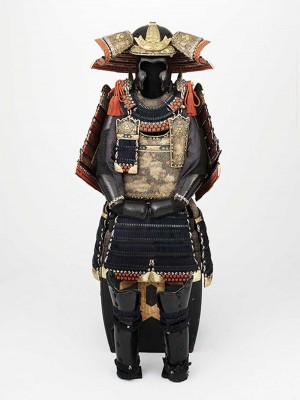 Iron, leather, gold, and bronze combine in this suit of armor from the mid-Edo Period.
Apparently, ancient Japanese samurai were as stylish as they were fearsome. Though Samurai: Armor from the Ann and Gabriel Barbier-Mueller Collection has been up for several months now, the Kimbell Art Museum is in the midst of a huge promotional push before the exhibit closes on Aug. 31. On Saturday, Denton's Sarah Jaffe and Dallas' Air Review played a free concert on the lawn as part of a daylong Samurai celebration, and the weekly public tours won't stop until the 100 pieces of garb, weapons, tools, and more return to Dallas.
The first traveling exhibition at the Kimbell's new Renzo Piano Pavilion, Samurai includes 18 full suits of armor, an impressive array of helmets and masks, and lots of scholarship. The bushido or "way of the warrior" is described in detail, telling the history of the samurais' martial and ethical traditions.
Though the exhibit includes an account of various Japanese eras, from the 12th through the 19th centuries, the focus is on the Edo Period, 250 years of peace that basically amounted to the samurais' golden age, when they were officially the elite, ruling class.
The exhibit starts with a bang: two full suits of armor. As the samurai's chief representation of their power and prestige, the armor is incredibly intricate and ornate. Made from iron, leather, gold, bronze, and copper, the battle/ceremonial suits are explosively colorful, with lots of rich blues, oranges, and golds. Most of the fabric is silky and emblazoned with peonies, the Japanese symbol for good fortune and wealth. On the chest plate of one of the suits, a golden dragon twists smoothly but fiercely. Next to the display cases are breakdowns of the individual pieces: helmet, mask, chest plate, sleeves, shin guards, and thigh protection that resembles a skirt. Every aspect of every piece is as elaborately detailed as the next.
When you think of samurai, you probably think of swords, but these weapons make up only a small — albeit intriguing — fraction of the exhibit. Described by Edo-era shogun Tokugana Leyasu as "the soul of the samurai," the sword was never used in battle and was worn simply as a sign of prestige, especially during the samurais' golden age. One sword in the exhibit is a particular showstopper. With its hilt covered in gold-specked paint and stingray skin, with the family crest in gold, it looks more like a delicate piece of art than something to kill your enemy with.
Even more artful than the body armor and weapons are the helmets and masks. Making up the brunt of the exhibit, these items are anything but boring. Either full face or half, the masks are mostly theatrical and semi-cartoonish but occasionally menacing. Some exhibit different facial expressions. Some have exaggeratedly long noses or eyebrows and mustaches made from horse hair. The masks are connected to the helmets, each as fine as any sculpture. They all contain religious, traditional, or family symbols: a Buddhist devas holding a rope and surrounded by bright red flames, a lion romping through peonies on a sandbank, dragons, seashells. The quality of craftsmanship is dazzling.
Not all of the artwork is behind glass. In one gallery, four mannequins in full suits of armor stand in powerful poses on a stage near lifelike horses and items from a famous samurai family, the Mori Clan. Saddles, stirrups, storage boxes, weapons, armor, and hats blaze with reds, yellows, and golds as though they'd just been created.
Perhaps Samurai's biggest highlight is the installation of three male mannequins decked out in full armor atop three fake horses outfitted in equally striking armor. Standing there, looking up at these warriors and their massive steeds, you get a real sense of their fearsomeness. If you're pressed for time, spend most of it with this tableau.
Samurai: Armor from the Ann and Gabriel Barbier-Mueller Collection
Thru Aug 31 at the Kimbell Art Museum, 3333 Camp Bowie Blvd, FW. $12-14. 817-332-8451.