Workin' Like a Dog
Posted July 2, 2014 by BIG TICKET in
Calendar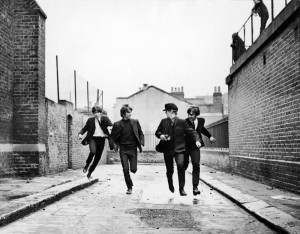 The Beatles run free in A Hard Day's Night.
While our nation celebrates the anniversary of its independence, our former colonial oppressors are marking another anniversary. This weekend is the 50th anniversary of the release of A Hard Day's Night, the greatest rock 'n' roll movie of all time that just happened to star the greatest rock band of all time, The Beatles. Supposedly Alun Owen wrote the script in a matter of weeks because the filmmakers were worried that the newly famous band might be a passing fad by the time the movie came out. While you can feel the haste in the shaggy looseness of the episodes, the film also has some insightful satire on fame as John, Paul, George, and Ringo try to keep their perspective. (When a journalist asks George whether success has changed his life, he deadpans, "Yes.") Director Richard Lester brings zest and a contemporary sensibility to the proceedings.
There's also some music. The romantic ballads "And I Love Her" and "If I Fell" are ravishing, although it's too bad that "This Boy" is relegated to an instrumental background track. Still, it's the uptempo numbers "Tell Me Why," "She Loves You," and the title song that remind you of why The Beatles were such an elemental force in their time and why they still retain their power to thrill. The Modern Art Museum of Fort Worth is hosting a special outdoor screening on Thursday and regular indoor showings the rest of the weekend, with no screening on the 4th.
A Hard Day's Night screens Thu-Sun at the Modern Art Museum of Fort Worth, 3200 Darnell St, FW. Tickets are $6-10 on Thu and $7-9 Sat-Sun. Call 817-738-9215.