Short Takes
Posted August 6, 2014 by BIG TICKET in
Calendar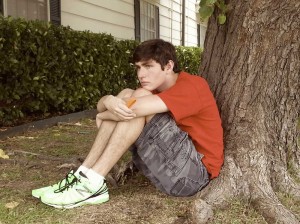 Michael Wittman performs in SceneShop's J.O.B.
Early August is when SceneShop comes out of mothballs and puts on its annual production of short plays. This year's collection takes work as its theme and is entitled J.O.B.
Quite a variety of workplaces enter into the evening's entertainment, too. Dale Shelton and Allison Willoughby's Mulligan's is a comic take on a night among the kitchen and waitstaff at a struggling chain restaurant, while Natalie Gaupp and Steven McGaw's spooky A Long, Damned Night has a bar owner and some of her regulars telling scary stories to while away the time on a stormy night at a West Texas bar off the interstate. Meanwhile, Kyle Irion's The Evaluation takes an office worker's 90-day performance evaluation into surreal territory. Work isn't confined to one's profession, either. Chris E. Gepp's Mine Likes It When She Don't See Me recounts a man's unconventional rise up the ladder of crime, and McGaw's Home. School. describes a man's coming of age through the story of him as a boy learning to take care of a dog.
Eugene Chandler, Travis Fant, and Michael Wittman are the actors joining the familiar ensemble for these playlets, while Pasticcio and City Lights Singers will provide musical interludes.
J.O.B. runs Fri-Sat at Arts Fifth Avenue, 1628 5th Av, FW. Tickets are $12. Call 817-923-9500.