When Great Minds Meet
Posted August 20, 2014 by KRISTIAN LIN in
Calendar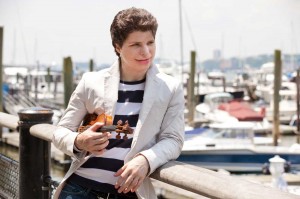 Augustin Hadelich plays with FWSO, Fri & Sun.
Fort Worth Symphony Orchestra returns to action this weekend with a festival of music by Johannes Brahms and Antonin Dvorák. The pairing is more than just that of two composers who happened to live at the same time with roughly congruent musical outlooks. It's also an object lesson on the usefulness of having friends in high places.
In 1877, Dvorák was still toiling away in obscurity in what's now the Czech Republic — then a backwater of the Austrian empire. That year, however, he won the Austrian State Prize for music for the third time in four years. This caught the attention of Brahms, who had been on the competition's jury for two of those wins. He referred Dvorák to his own music publishing firm, which commissioned the Czech to write a series of dance pieces for two pianos. This was in response to Brahms' Hungarian Dances that had been written for the same setup and had become wildly popular. The result was Dvorák's Slavonic Dances, which made the composer's international reputation. Not only did he make an orchestral version of his own suite, but he also went on to transcribe some of Brahms' Hungarian Dances for orchestra as well. These works, drawing on folk music of the time, will be played side by side when FWSO begins its new season.
Fort Worth Symphony Orchestra plays Fri-Sun at Bass Performance Hall, 555 Commerce St, FW. Tickets are $16-65. Call 817-665-6000.