Getting Hitched
Posted August 27, 2014 by BIG TICKET in
Calendar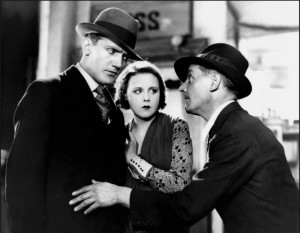 Blackmail (1929)
In a 1997 Australian college comedy called Love and Other Catastrophes, a film professor informs his students that they'll spend the semester studying Alfred Hitchcock's works. The students groan with disappointment, and a fantasy sequence ensues as the professor imagines his students worshipping at the altars of Quentin Tarantino and Spike Lee. It's true, the Master of Suspense can't be considered au courant anymore, but there's still plenty to learn from his thrillers. As part of the Modern's Scare Tactics: Six by Hitchcock, there will be screenings of his masterpieces (Rear Window, Psycho) and his films made at the dawn of the sound era.
Of the latter, Blackmail was shot only partially in sound, so in the spirit of silent film, pianist Robert Edwards will provide live musical accompaniment. Meanwhile, Hitchcock's 1926 thriller The Lodger, starring matinee idol Ivor Novello as a boarder who might be a Jack the Ripper-style serial killer, is entirely silent and will feature live music by a band led by The Theater Fire's Curtis Heath, who provided music for such films as Ain't Them Bodies Saints and Pit Stop. All in all, the program offers a chance to see the origins of cinematic tension-building techniques that have seeped into the DNA of filmmakers everywhere.
Scare Tactics: Six by Hitchcock runs Thu-Sun at the Modern Art Museum of Fort Worth, 3200 Darnell St, FW. Tickets are $6-9. Call 817-738-9215.