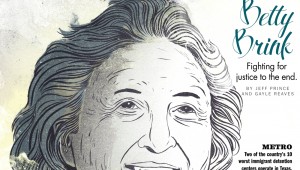 Fighting for justice to the end.


JEFF PRINCE AND GAYLE REAVES; PHOTOS COURTESY OF THE BRINK FAMILY
You couldn't call Betty Brink the face of Fort Worth Weekly because reporters seldom get their mugs in the paper. Most readers had no idea that the byline attached to her hard-hitting investigative stories belonged to a short...
This group of activists fights city hall on everyone's behalf.


Jeff Prince
Towering trees are among the many things that attracted Wanda Conlin to the Meadowbrook neighborhood in East Fort Worth five decades ago.