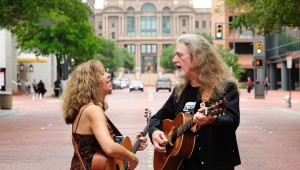 Jeff Prince
Adler & Hearne, an Americana band with Fort Worth roots, is wrapping up a tour of the West Coast and swinging through the Metroplex on their way back to their current home in East Texas. Lynn Adler and Lindy Hearne, ...
Hearsay
First off, there are a helluva lot worse places to live than Fort Worth. Ever hear of a little ol' ville called Youngstown, Ohio? How about Flint, Michigan? Scranton, P.A., anyone? Or any other city where even the roses a...
In a new book about Americana, the vitriol tries to dilute the poignant insights.


Books
What an odd book — fascinating at times yet frustrating in its lack of organization and purpose.
Listen Up
Music that listeners are supposed to take seriously often comes from obscure artists who write dark songs. While Chris Knight is critically praised, the general public wouldn't know him from, say, Gary Nicholson.