Posts Tagged 'aventino's'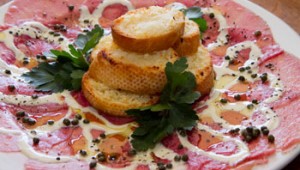 Aventino's 2.0 is comfortable and classy, and the Italian fare traditional and tasty.


LAURIE BARKER JAMES
In early January, one local chef was out promoting a new restaurant via Facebook. The thing is: It wasn't his restaurant. Jon Bonnell, whose eponymously named eatery is a Fort Worth institution, was unabashedly cheering the r...
Chow, Baby
I got a little back-to-the-future jolt when I walked into Aventino's Risorante for a recent weekday lunch. I thought maybe my DeLorean had hit 88 mph, and I had messed up something in the past that changed the present. Fortun...
BRIAN ABRAMS
The West Side is full of Euro-influenced bistros: La Piazza, Escargot, Saint-Emilion, Bella West. Thing is, they're all a little — how you say? — snooty as all get-out.