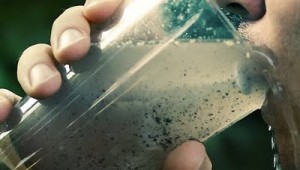 Static
Fort Worth-based Range Resources is like most gas drillers in the Barnett Shale. They brag a lot about being environmentally friendly and eager to work with communities to ensure "health, education, safety, and other civic im...
Jeff Prince
Texas Sharon via her blog site Bluedaze has been exposing the natural gas industry's heavy-handedness for years. She's this area's version of Erin Brockovich, taking on rich corporate polluters with little mor...
Jeff Prince
From the sad but funny file: Sharon Wilson, aka "Texas Sharon," posted this photo on her Bluedaze web site this morning: This is near a Johnson County road where gas drillers have flocked in recent years.
Jeff Prince
Ever wonder what the North Texas countryside looks like to an eagle or a hawk on the wing? Go to Bluedaze and watch the video and you'll see it looks like an oil and gas industrial site.