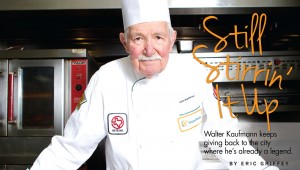 Walter Kaufmann keeps giving back to the city where he's already a legend.


ERIC GRIFFEY with photos by Vishal Malhotra
The man pulled an old brown book out of a denim satchel with care, cradling it like a newborn. As he slowly turned the pages of the smoke-stained album –– loose sheets, press clippings, old photographs –– it seemed as t...
Though this fine-dining staple has been around a while, it's just getting cookin'.


LAURIE BARKER JAMES
Bonnell's Fine Texas Cuisine celebrates its 10th anniversary this month. A decade of existence in the same southwest Fort Worth location is impressive, especially considering that, 10 years ago, "fine Texas cuisine" was s...