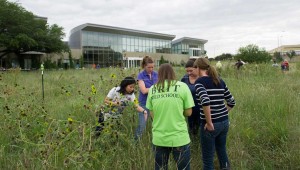 BRIT is spreading the word on reintroducing native plants to urban landscapes.


EDWARD BROWN
On the grounds of Fort Worth's Botanical Research Institute of Texas is a patch of land that looks out of place next to the sleek new facility. The field of tall, wild-looking prairie grass is an experiment of Karen Hall, app...
Listen Up
As their name suggests, Dirt&Earthyvibes rely on some down-home growling and rowdy hippie-style hand drums.