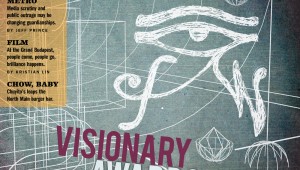 Adam Adolfo, Bradly Brown, and HOMECOMING! Committee are this year's winners.


ANTHONY MARIANI AND JIMMY FOWLER
Fort Worth Weekly is not an advocacy mag, unless you consider exposing sources of anti-truth, anti-liberty, and anti-justice some sort of biased mission. But we do enjoy pointing readers in the right direction. For more than 15...
The governor's latest political ad gets lots of attention, most of it bad.


DAVE MCNEELY
Just when it seemed Rick Perry's flagging presidential campaign couldn't get any more desperate, his latest Iowa TV ad disproved that belief.
KRISTIAN LIN
WED ▪ 2 Don't wipe that Halloween greasepaint off your face just yet. Today is Day of the Dead, and The Where House (2510 Hemphill St, 817-913-7777) is throwing a party. Vanillaface Jones and Fort Worth improv-jazz outfit G...