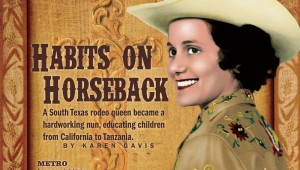 A South Texas rodeo queen became a hardworking nun, educating children from California to Tanzania.


Karen Gavis
A swanky Western jacket hung nearby as Sister Camella Menotti, 84, thumbed through a folder filled with old photographs and newspaper clippings. "We're supposed to keep stuff like this. We put it out when we die. We have a ...
Static
Shhhhh! Top-secret stuff is happening in Weatherford. But Static isn't afraid to dig up confidential info on the down low if it pleases regular readers of this snarkfest. Blogging Project Runway, a fan site that tracks the po...