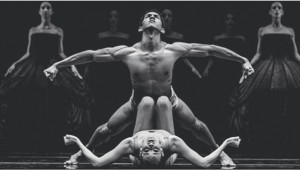 Though a tad redundant, Artistic Director's Choice was Grade-A quality.


Leonard Eureka
Repertory programs showcasing three or four short ballets, with a pas de deux thrown in sometimes for spice, have been the savior of small companies for decades. Little or no scenery and simple costumes keep production costs lo...
Anthony Mariani
Huge, shimmering, occasionally fuzzy guitars. Pounding, splashing drums and syrupy atmospherics. Slinky, androgynous vocals that slowly transmit Beatles-esque melodies with lyrics about transmutation, self-reflection, and trans...
Listen Up
Why is everybody so nostalgic all the time?
Breaking and Entering makes hash out of big issues, and that's a petty crime.


Kristian Lin
Anthony Minghella made his name as the director of lush, cosmopolitan, epic literary adaptations with period settings, beginning with The English Patient in 1996 and continuing through The Talented Mr. Ripley and Cold Mountain.
The Show
The best thing about the relatively new trio The Blonde Girls is that they're noisy but in a good, Sonic Youth-y, Pavementian, Moby Grapesque way.