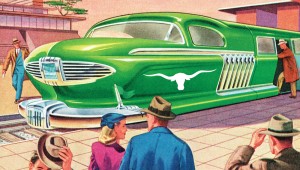 Will The T's master plan and TEX Rail move us forward?


Eric Griffey
On an oven-hot Sunday in July, the No. 25 bus pulled up to its stop at the intersection of Hulen Street and Camp Bowie Boulevard. The five of us waiting there stirred. We had been huddled beneath what little shade was cast by t...
Tarrant and Dallas took different public transit routes. Guess who's ahead.


DAN McGRAW Photos by Chase Martinez
Anyone who has ever tried taking the Trinity Railway Express to Dallas-Fort Worth International Airport knows how poorly planned this commuter rail line is.
Stepping off the curb earns a reporter eight years of threats but no day in court.


Jeff Prince
Lyrics to an old Johnny Cash song run through my brain with every trip to my mailbox.
Gallery
William Campbell rings in the new year with a show of objets d'art selected from the gallery's 2006 shows.