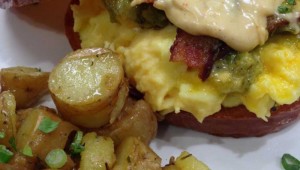 CHOW, BABY
While living on the East Coast, Chow, Baby developed an affinity for deli food. But in Fort Worth, for years, when I craved salmon gravlax or a pastrami on rye, my non-chain choices were Carshon's and, well, that's it. Luck...
Jimmy Fowler
All over the Fort, old neighborhoods are being rediscovered and redeveloped faster than you can finish this sentence.
Despite some setbacks, the White Eagle Deli does OK by traditional lunchtime fare.


Peter Gorman
I don't know what the White Eagle Deli looked like when it opened in 1979, but right now it has to be the plainest dining room in all of Fort Worth.
Dan McGraw
A lot of chain restaurants spend billions of dollars and countless hours on trying to replicate distant and sometimes not-so-distant lands. Razzoo's sells New Orleans. House of Blues sells Chicago. Olive Garden sells an Itali...