Posts Tagged 'deportation'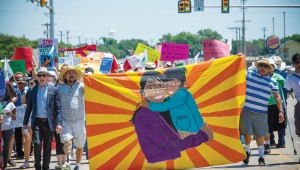 As detention centers in Texas hold asylum seekers needlessly, the private operators rake in millions.


Peter Gorman
In response to 2014's unprecedented number of women with their children caught crossing the border between Mexico and the United States —68,000 families — President Obama expanded on a program of family detention that had...
Tougher deportation rules are tearing up families without ushering in broader reforms.


Seth Wessler
On the night that Shahed Hossain left his family's house in Haltom City to drive to Laredo, his mother, Habiba, cooked dinner — chicken and rice, with okra picked from the garden. She piled her son's plate high and watche...