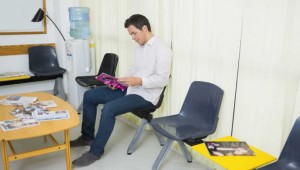 People in doctors' waiting rooms are already worried. Must they also bear the pain of politics?


KEN WHEATCROFT-PARDUE
Due to my wife's recent medical problems, I've become an expert of sorts on doctors' waiting rooms. This niche ecosystem is filled with a cross-section of humanity, trending toward the elderly but also including more than...
Jenna Fischer finally gets the starring role in this indie drama.


KRISTIAN LIN
Steve Carell isn't the only star of TV's The Office with a movie out this week. Jenna Fischer charmed millions of viewers portraying the sweetly downtrodden receptionist on that show, but she's never come close to having ...
Jeff Prince
A hardwood chair, desk, laptop computer, and picture window are familiar friends to Dawn Irons, who doesn't do much more than sit at home and write these days.
Kristian Lin
"Do you ever feel like a fuck-up?" So inquires recent high-school grad Luke Shapiro (Josh Peck) of his psychiatrist, Dr. Jeffrey Squires (Ben Kingsley).
Patients, doctors, and activists say Fort Worth's public hospital is failing in its primary job: caring for poor patients.


ERIC GRIFFEY and BETTY BRINK
Alan Cattlett spent more than a week in 2006 eating almost nothing and drinking himself almost to death, a result of severe depression.