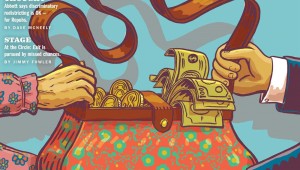 Texas' guardianship law leaves the elderly open to abuses from a cozy system.


JEFF PRINCE
Dorothy Luck was enjoying the fruits of a lifetime of hard work: a well-cared-for house, a good-running Cadillac Deville, a million dollars in a bank account, another million in annuities, and a monthly income from investments ...
Our most basic social programs are under attack.


GRAYSON HARPER
Boy. Lately I've been having this eerie feeling of waking up in a strange place.
John Q. Public
To the editor: As a physician, I feel I must write to you about the healthcare debate ("Healthy Debate," July 29, 2009).