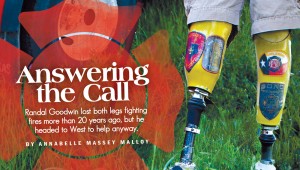 Randal Goodwin lost both legs fighting fires more than 20 years ago, but he headed to West to help anyway.


ANNABELLE MASSEY MALLOY photos by Mike malloy
When Randal Goodwin heard the rumble outside his home in rural Cleburne, just before 8 p.m. on April 17, he thought it was thunder. "We were edgy," Goodwin said. "We were still reeling from the Boston bombing on Monday an...