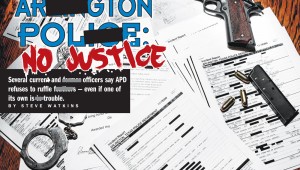 Several current and former officers say APD refuses to ruffle feathers — even if one of its own is in trouble.


Steve Watkins
On a sunny October day in 2011, Paul Balson watched out the window of his Arlington home as a car with three men in it circled the block. On the third pass they pulled up to the curb in front, got out, and purposefully started ...
Big Ticket
Fort Worth filmmaker James Johnston is getting a lot of buzz for his new short, Knife: A Portrait of Revenge. After the Weekly wrote a cover story on him, ("Cool Customer," June 1, 2011), he popped up in a New York Times st...