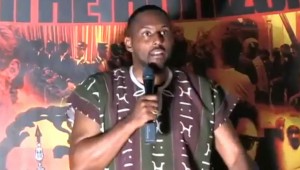 Kristian Lin
This Saturday afternoon, The Dock Bookshop hosts a meet-and-greet luncheon with author Ayo Kimathi a.k.a. The Irritated Genie of Soufeese. He then travels to the Aletheia Temple Church to give a lecture on his latest book, Effe...
The governor's latest political ad gets lots of attention, most of it bad.


DAVE MCNEELY
Just when it seemed Rick Perry's flagging presidential campaign couldn't get any more desperate, his latest Iowa TV ad disproved that belief.
Jimmy Fowler
It's a sad commentary on Christianity in America that many people are surprised and even thrilled when a Christian church takes a stand that is, well, Christian. But let's not quibble: Kudos to Fort Worth's Broadway Bapti...
Things are getting even stranger in the right's campaign to counsel people out of their homosexuality.


ERIC GRIFFEY
Near the University of Texas at Arlington, in the shadow of a sprawling church, a small sanctuary occupies a suite in a towering office building.