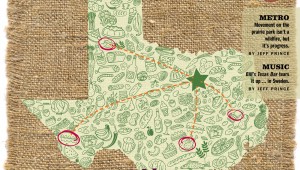 Co-ops, restaurants, and farmers are building the locavore movement in Fort Worth.


ERIC GRIFFEY
The wind was gusting so hard at the Ridgmar Farmers Market that neither hat nor hairdo was safe from its wrath. But Ashley Spencer had braved the wind to come buy local honey, even though she was still recovering from pneumonia...
eric.griffey
Just because restaurant week is over doesn't mean you should stay home and eat beans out of a can. We roll: Blue Mesa (1600 S. University Dr. FW 76107 phone: 817-332-6371) is making tacos for a cause. One dollar from every ta...