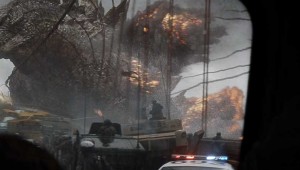 Godzilla rampages again in a flawed but terrifying remake.


KRISTIAN LIN
Let me calm things down a bit. The early reviews of Godzilla led me to expect something fantastic, and this movie isn't that. It barely seems to have a script. Yet watching it, I felt something like the awe and horror that th...
Though its premise is promising, Cloverfield is all bark and no bite.


Cole Williams
When I first saw the mysterious trailer for Cloverfield last summer, I thought "probably just another disaster movie," though I prayed "giant-monster movie." As a lifelong Godzilla fan, I couldn't ...