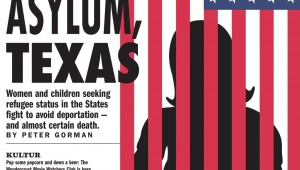 Women and children seeking refugee status in the States fight to avoid deportation — and almost certain death.


Peter Gorman
H.R. is a 28-year-old single mother from Guatemala who has been living with her 10-year-old son in a Presbyterian church outside San Antonio for three months. While there she has sanctuary: Though the United States has denied h...
Static
The cover story in this issue describes how the Zetas drug cartel is wreaking havoc on the social fabric of huge swaths of Mexico. Apparently, the organization's vicious ambitions go even further. According to Grupo Savant, a...