Posts Tagged 'hitchcock's'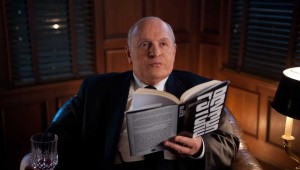 This behind-the-scenes drama runs into a few hitches.


KRISTIAN LIN
Nothing in Hitchcock tops its opening sequence. After serial killer Ed Gein (Michael Wincott) murders his brother with a shovel, the camera pans to Alfred Hitchcock (Anthony Hopkins) standing a few feet away, wearing a suit and...
The actors do more than just recite lines and block in Stage West's take on a Hitchcock classic.


JIMMY FOWLER
Stage West has never been afraid to set up unique theatrical challenges for its actors. The company's 2007 production of Marie Jones' Stones in His Pockets featured two performers playing 15 Irish characters of different ge...