Posts Tagged 'homosexuality'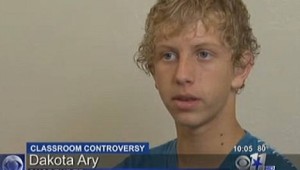 Andrew McLemore
Remember Dakota Ary? He was the teenager disciplined by Western Hills High School last year after a teacher overheard him telling another student that "homosexuality is wrong." He and his mom filed a lawsuit against...
Hatemongers could learn a few things from this football coach.


E.R. BILLS
On my way to work a while back I saw a solitary picketer at the corner of Camp Bowie Boulevard and Cherry Lane. He had a sign in each hand and two or three on the landscaping buggy he'd dragged to the street corner with...
Things are getting even stranger in the right's campaign to counsel people out of their homosexuality.


ERIC GRIFFEY
Near the University of Texas at Arlington, in the shadow of a sprawling church, a small sanctuary occupies a suite in a towering office building.