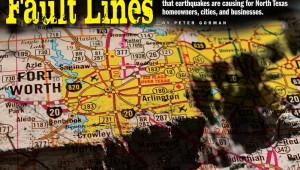 There's nothing theoretical about the damages that earthquakes are causing for North Texas homeowners, cities, and businesses.


Peter Gorman
The first time Cathy Wallace felt an earthquake was last Dec. 15. She was sitting with her husband in their Irving home discussing retirement when "the whole house started swaying," she said. She thought the house might col...
KRISTIAN LIN
WED ? 10 Essential viewing for anyone who likes their movies completely insane, Sukiyaki Western Django is a Western by Japanese filmmaker Takashi Miike, who wrote the script in English and then hired non-English-speaking Japan...
The Hoax that Clifford Irving pulled is recounted in this enjoyable movie.


Kristian Lin
In interviews and public appearances, Richard Gere has repeatedly said that the most fun he has ever had on the job was playing Billy Flynn in Chicago.