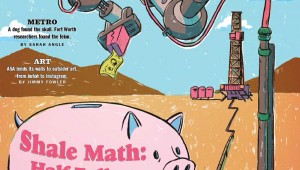 Either way, gas drilling's gifts are full of questions.


JEFF PRINCE AND ERIC GRIFFEY
Her first royalty check hit the mailbox in 2008, and Becky Ferruggia was excited to see the amount –– about $8,000. Chesapeake Energy landmen had told everyone in her neighborhood that the gas wells would produce for 20 or ...
A Pennsylvania filmmaker visits North Texas to get the dirt on gas drilling.


DAN MCGRAW
In December 2008, live-theater producer and filmmaker Josh Fox (his 2008 film, Memorial Day, was based on the Abu Ghraib prison scandal) was approached by several landmen who wanted him to sign a deal to lease mineral rights fo...