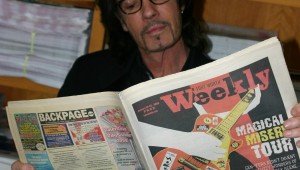 Jeff Prince
Gosh, Rick, we thought you liked us. But you come to North Texas, hang out with our next door neighbor for two days of music and fun, and don't even stop by for a quick hello? Really? It seems like only yesterday that you...
Jenna Fischer finally gets the starring role in this indie drama.


KRISTIAN LIN
Steve Carell isn't the only star of TV's The Office with a movie out this week. Jenna Fischer charmed millions of viewers portraying the sweetly downtrodden receptionist on that show, but she's never come close to having ...
You can't spell Mamet without MMA! A famed playwright goes jiu-jitsu on us.


KRISTIAN LIN
Seven years ago, David Mamet capped a winning streak as a film director with his engaging farce State and Main, following his twisty 1997 thriller The Spanish Prisoner and his elegant 1999 period drama The Winslow Boy.
Last year's scariest horror movie is the Spanish import The Orphanage.


Kristian Lin
A look back on 2007′s horror movies doesn't exactly reveal an embarrassment of riches.