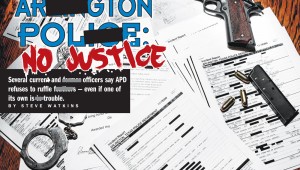 Static
Our suburb to the east –– apologies to former Mayor Richard "We're Nobody's Damned Suburb" Greene –– enjoys a reputation as a friendly tourist town. Want to watch the Dallas Cowboys lose or George Strait sing at...
Back from Colorado, folk-rock singer-songwriter Daniel Katsük has newfound energy and … new bandmates.


CAROLINE COLLIER
When local folk-rocker Daniel Katsük decamped for Boulder, Colo., a year ago, he was looking forward to a new start.
TBT revives Dracula and longs for a new eastward lair.


Stage
Not long after he took over Texas Ballet Theater five years ago, director Ben Stevenson produced Dracula.
Big Ticket
Ben Stevenson's first major new ballet in several years will be unveiled at the Majestic Theater in Dallas this weekend.