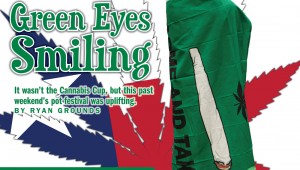 It wasn't the Cannabis Cup, but this past weekend's pot festival was uplifting.


Ryan Grounds
A couple of months ago, after hearing that the second annual Southwest Cannabis Conference and Expo was going to be held in Fort Worth –– Fort Worth! a weed festival in my neck of woods! –– I felt the sun begin to shine...
Kristian Lin
I always found ABBA's melancholy ballads more interesting than their better-known disco-influenced hits, but I find those latter songs pleasant enough in small doses.
Mamma Mia is content to let you stuff yourself with its splendid Italian fare.


Jimmy Fowler
The holiday tree still sits in the middle of Mamma Mia Italian Grill & Pizza, not far from the huge stone fountain with the angel pouring water from a pitcher atop its head.