Posts Tagged 'missing sibling'
ANTHONY MARIANI
Southern Train Gypsy rocks terrifically hard. Kickass song. Great visuals, proving the band has a sense of humor –– more hardcore acts could stand to lighten up a little. "The Healing" is off the band's sophomore albu...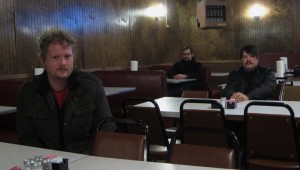 Members of Fate Lions and Calhoun conspire by the fire in Missing Sibling.


ERIC GRIFFEY
On a recent Sunday night in the middle of Nowheresville, Okla., Missing Sibling experienced its first big break. It's not what you think. A belt on singer/guitarist Drew Gabbert's Jeep Cherokee snapped, leaving him and his ...