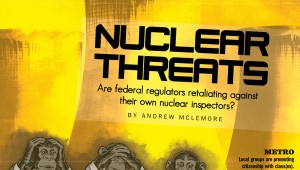 Are federal regulators retaliating against their own nuclear inspectors?


ANDREW MCLEMORE
About 9:30 a.m. on June 7 last year, workers at the Fort Calhoun nuclear power plant near Omaha, Neb., raised the alarm. Some minutes earlier, an electrical fire had sparked in a large fuse box –– the result of poor install...
ERIC GRIFFEY
If you haven't heard much recently about how the hearings are going on Luminant Energy's proposal to build two new reactors at its Comanche Peak nuclear power plant, it's not surprising, plant opponent say.