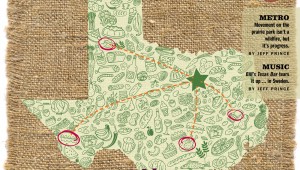 Co-ops, restaurants, and farmers are building the locavore movement in Fort Worth.


ERIC GRIFFEY
The wind was gusting so hard at the Ridgmar Farmers Market that neither hat nor hairdo was safe from its wrath. But Ashley Spencer had braved the wind to come buy local honey, even though she was still recovering from pneumonia...
Richard Baggett


Gallery
The TCC Trinity River Campus' first display of art is of Richard Baggett's large metal sculptures, which are on show both inside and outside the buildings. The pieces have been on exhibit since February; this is the l...
Gallery
Several of Fort Worth Community Arts Center's shows this month share an environmental theme.
Gallery
Nope, it's not necessary to clean your glasses while viewing the blimpy, blotchy abstract paintings that compose Joachim Kersten's show.
Listen Up
A couple of years ago, after more than a decade of mainstream success, radio-prog giants Incubus found themselves on the verge of industry-caused destruction.