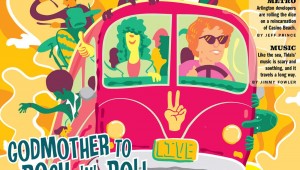 "Ema" Rosenauer has wiped noses, kicked butts, and helped Fort Worth musicians to successful careers for more than 40 years.


JEFF PRINCE
The phone rings. A woman wearing a flowered blouse and black slacks rolls her office chair across the room and snatches up the receiver. "Ema's Enterprises," she says in a loud but friendly voice. LaVon Rosenauer has answ...
Hearsay
If you're a regular reader, you're probably well aware of Indian Casino Records, a Seattle label run by Haltom City ex-pat John Frum. Though times have been hard, the label continues churning out product, including a new ba...