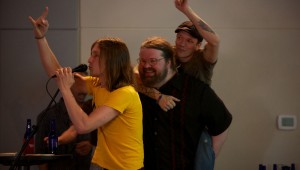 Quaker City Night Hawks, Holy Moly come up big in our 15th Annual Music Awards.


ANTHONY MARIANI
Quaker City Night Hawks rule the roost. In our 15th Annual Fort Worth Weekly Music Awards, celebrated on Sunday at Piper Hall in the West 7th Street corridor, the gritty rock quartet won all four categories in which it was nomi...
ANTHONY MARIANI
We got a lot of votes this year. Almost 20,000, to be exact. Both online and in print. And thanks to our ballot-counters – our three interns and lone marketing person – we were able to announce the winners of the 11...