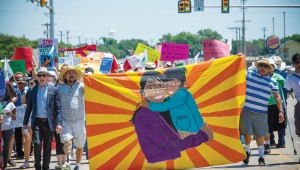 As detention centers in Texas hold asylum seekers needlessly, the private operators rake in millions.


Peter Gorman
In response to 2014's unprecedented number of women with their children caught crossing the border between Mexico and the United States —68,000 families — President Obama expanded on a program of family detention that had...
Anthony Mariani
Early next month, an awesome benefit show will take place to raise money to repair several dozen bicycles and possibly purchase several more to be donated to local refugee families via Refugee Services of Texas and Catholic Cha...
The road has been weary but not overwhelming for Henri Pierre Mayakapongo.


CAROLINE COLLIER
"Art is my passion," said local metal wire sculptor Henri Pierre Mayakapongo. "If I have an idea, I need to make it."
The Show
While many of us while away the hours worrying if our 401(k)s are diversified enough, people in the African nation of Sierra Leone are still dealing with the after-effects of a mindblowingly horrific civil war that ended in 2002.