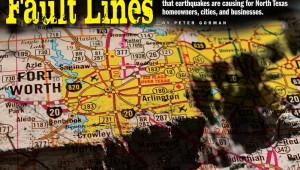 There's nothing theoretical about the damages that earthquakes are causing for North Texas homeowners, cities, and businesses.


Peter Gorman
The first time Cathy Wallace felt an earthquake was last Dec. 15. She was sitting with her husband in their Irving home discussing retirement when "the whole house started swaying," she said. She thought the house might col...
Cowtown's last minor-league roundball fling scored only debts and bad feelings.


Dan McGraw
When it was announced in 2005 that a new minor-league basketball team – the Fort Worth Flyers – were coming to Cowtown, plenty of promises were made.
Local sax-man Johnny Reno has spent a lifetime in music, from all angles.


CAROLINE COLLIER
Looking back on a career that has spanned about 30 years, Johnny Reno marvels at his enviable good fortune and wily approach to the music business.
Kristian Lin
Before the United States entered World War I in 1917, there were already a small number of American men who had gone to France to fight the Germans. Some of them trained to fly airplanes. These were the first American fighter p...