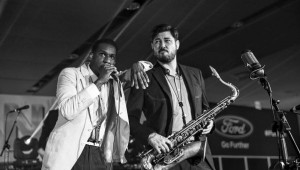 Jeff Dazey is inspiring the next generation of saxophonists.


Edward Brown
The Tarrant County College south campus' jazz band was recently performing at the Live Oak. The music hall was packed. TCC jazz director Rick Stitzel deftly guided his big band through popular standards, newer works, and a su...
Listen Up
Brian Wright and the Waco Tragedies' Bluebird is a lyrically interesting rock CD that leans toward aggressive, energy-filled folk.