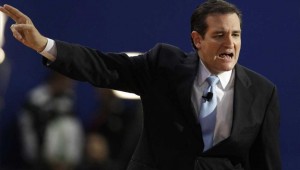 DAVE McNEELY
Well, that didn't take long. Or, as NBC broadcaster Andrea Mitchell put it recently, "Ted Cruz has made his mark already." If The Cruz were a missile, there might be a plaintive call to Mission Control: "Houston, we hav...
!Si, si! Robert Rodriguez satirizes the illegal immigration debate.


KRISTIAN LIN
Before Machete was a real movie, it was a fake movie. For their 2007 double-bill Grindhouse, Robert Rodriguez and Quentin Tarantino had four trailers created for nonexistent films to run alongside their movie, partly to re-crea...
Kristian Lin
The animated kids' movie out this week, Space Chimps, is being released simultaneously with a tied-in video game.