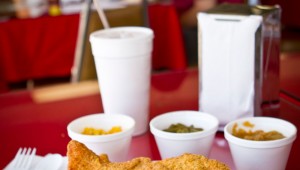 This nondescript eatery is serving up big downhome soul/comfort food.


JIMMY FOWLER
The window sign at Damian's Cajun Soul Café says closing time is 4 p.m., but that's not quite accurate. This family-owned comfort-food spot actually shuts down as soon as it runs out of food, which happened to be around 2 ...
Jimmy Fowler
The often dreary workaday business at City Hall just got a shot of "Yummy!": The "Star-T" reports today that Drew's Place, the popular 22 year old Lake Como soul food establishment run by Drew Thomas, has secured a co...