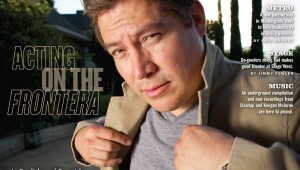 In English and Spanish, Fort Worth's Julio Cedillo has built a Hollywood career one role at a time.


EDWARD BROWN AND KRISTIAN LIN
Julio Cedillo learned early on that there's a lot less glamour in the acting profession than most people expect. He's spent 25 years building a career by mediating between Hollywood and his native Fort Worth, between hangin...
… and your salads, and your sandwiches, and everything else fresh, healthful, and tasty at Veria Natural Café.


JIMMY FOWLER
Sitting along the north side of I-20 in Arlington at Matlock Street, Arlington Highlands has been quaintly described as a "shopping center," which is a considerable understatement.
Static
Oh joy, it arrived just in time for the holidays – Static's very own copy of the Wal-Mart Family Cookbook, of course!