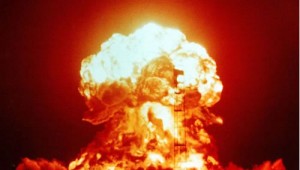 Declaring a war seems a casual (and eternal) business.


GRAYSON HARPER
It's spring again. Must be time to start another war. Now it appears the target will be Iran. Or maybe Syria. John McCain wants to bomb Syria. Well, I guess it doesn't matter as long as we bomb somebody. On the issue of Ira...
Kristian Lin
*I'm lying. By now, you've undoubtedly heard of the blogger calling herself A Gay Girl in Damascus being unmasked as a 40-year-old American grad student living in Scotland. Tom MacMaster is married to a student of M...
There's a bigger picture to consider.


Gwynne Dyer
Last Friday saw the first nationwide protests against the Baath regime in Syria. If these protests develop into a full-scale revolt, the regime's response may dwarf that of Col. Muammar Qaddafi in Libya.