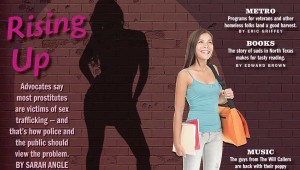 Advocates say most prostitutes are victims of sex trafficking — and that's how police and the public should view the problem.


SARAH ANGLE W/ PHOTOS BY ROBERT HART
Arletta Grant doesn't remember a lot about that time in her life. "I blocked it out," she said. But some things she can't forget: "At nighttime, he would make me come into his room." "He" was an older male cousi...
John Q. Public
To the editor: Fort Worth Weekly's recent cover story, "The Cost of Staying Alive" (May 5, 2010), showed the true picture of the healthcare reform and really hit home for me.
E.R. BILLS
Someday I'd like to see the Sahara Desert. My Uncle Jimmy made an unscheduled stop there 20 years ago.
Gayle Reaves
Shooting through thick glass into the narrow box of a prison interview cubicle, John Holbrook had few options as a photographer.