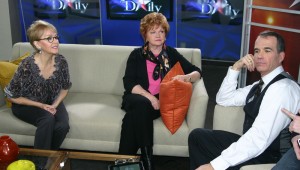 Experience may or may not bring in audiences for The Texas Daily.


JEFF PRINCE
Banter begins as soon as Suzie Humphries, Midge Hill, and Jeff Brady walk through the studio door, still 30 minutes before cameras start rolling on The Texas Daily at 8 a.m. sharp. They chat like BFFs and barely notice when a c...
Jeff Prince
The "comedy" of Daybreak talking head Ron Corning has got to stop. In the name of all that is sane and right, please make it stop. The whole "He's Taking Over The Morning" campaign began earlier th...