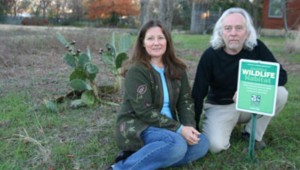 Jeff Prince
Nobody is prouder of their front yard than Don and Debora Young, East Side environmentalists and unofficial caretakers of Tandy Hills Natural Area. Their yard is a canvas of native grasses and wildflowers that represent how the...
Tarrant's newest lakeside park is already a monument.


Jeff Prince
When the gates open to the public on Friday, Eagle Mountain Lake Park will represent many things beyond the obvious beauty of 400 pristine acres covered with wildflowers, cedars, oaks, mesquites, cactus, rocks, walking trails, ...
Should park and wildlife managers try to fend off the results of climate change? How?


M. MARTIN SMITH and FIONA GOW
In Texas, shrubs may be the among the first victims of global warming. It's a twist that might have pleased Molly Ivins.
Gallery
The Nature Conservancy of Texas is an organization that protects wildlife and wildlife habitat in our state.