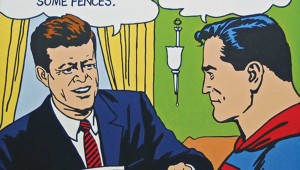 Dennis Blagg gathers some of Leslie Lanzotti's most skeptical JFK paintings.


ANTHONY MARIANI
Fort Worthian Leslie Lanzotti describes her painting style as "fractured reality." Fitting then that one of her favorite subjects is shrouded in mystery. And not just any big question but one of the biggest in the history o...
Artspace 111


Gallery
Leslie Lanzotti has long been obsessed with James Whale's Frankenstein films from the early 1930s. Now her series of Rembrandt-influenced paintings of scenes and shots from those films is up at Artspace 111. Hurry, though: Th...