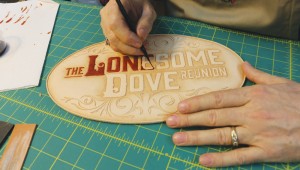 After years of transforming leather into art, Jim Linnell is excited to celebrate the legendary TV series.


DAVID DUNN
When most people look at a sheet of leather, they usually see just that: a piece of smooth, firm material. But leather crafter Jim Linnell sees each one hiding a new creation, like how a painter views a canvas or a sculptor a m...
Firehouse Art Gallery


Gallery
Michael Laursen started out as a pupil at Firehouse Art Gallery, working with lengths of pipe and strands of leather. His work impressed Firehouse's Keith Thomson enough to suggest adding clay pieces to his sculptures.